Winwap receives AAA credit rating
Winwap Technologies Oy is proud to announce that we again received the highest credit rating by Soliditet. Only about 4% of companies in Finland ever receive this credit rating.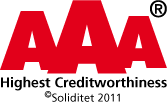 At Winwap we will continue to put high value on our long term relationships with our customers, and build new relationships and products. As a 16 year old company we have an exceptionally long history for being a mobile software technology company. We see this as a great base for building a long and successful future with our customers and partners.