WinWAP for Windows Mobile FAQ
First time you run WinWAP on your Windows Mobile device
Your version of WinWAP for Windows Mobile requires that you register it in order to use it. You can either register for a free 30 day evaluation, or buy a Registration Key for unlimited use. Registration requires access to the Internet from the Windows Mobile device. For your free 30 day evaluation, simply select the "Get free evaluation (trial) license" option, and click on the "REGISTER" softbutton (left bottom button).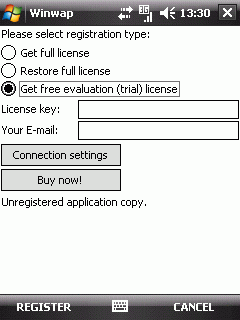 My trial period has expired, what do I do?
You must purchase a Registration Key that provides unlimited rights to use the browser on your Windows Mobile device. Click on the "Buy now!" button on the registration screen, or click on the "Buy Now" link for the right version on our downloads page.
What versions of Windows Mobile can be used?
The builds available for download work on the following Windows Mobile versions (make sure you download the right version for your device):

Windows Mobile 6 (and 6.1)
Professional (touch-screen)
Standard (non-touch screen)
Classic (touch-screen)
Windows Mobile 5.0
for Pocket PC Phone Edition (touch-screen)
or Smartphone
or Pocket PC
Does WinWAP work over the ActiveSync connection?
Yes, you can browse over the ActiveSync connection but make sure your connection settings allow it. Note that on Windows Vista there is no ActiveSync application as Vista has built-in support for Windows Mobile devices through the Sync Center and Windows Mobile device Center (may on some Vista implementations require that you actually download the modules from Microsoft's website).
Can I extend my WinWAP Trial period?
No.
Can I move WinWAP to my new Windows Mobile device?
Yes, but it requires that you contact our customer support.
Your Registration Key can only be used once on 1 Windows Mobile device. If you want to move WinWAP to your new device you must contact our customer support, from the email address provided when registering your copy! Our support enginees will then be able to reset your registration so you can register WinWAP on your new device.
Note that you can not restore registration on the device used previously after having registered on the new device.
What is the difference between HTTP and WAP Gateway modes?
HTTP is the same protocol that is used with your normal web browser to open pages on the internet. In Gateway mode all data passes through the gateway that in fact compresses the data so that it loads faster over a slow connection. If your own connection to the internet is as fast as the gateways connection to the internet, it is in fact faster to use HTTP mode since you then retrieve the data directly from the URL instead of having the data pass the gateway and be processed in the gateway. Typically you would always want to use a WAP gateway over slow connections (GPRS over GSM or other slow dial-up connection) to speed up page loading.
Where do I get the address for a WAP Gateway/Proxy?
If you are using a wireless connection (GPRS to Broadband on GSM,3G) your operator will supply you with the WAP Gateway/Proxy address as well as the APN to use for the WAP connection. Many telecom carriers/operators require that you use their WAP Gateway/Proxy and correct APN in order to download content like ringtones and games, and to access any of the online services they provide.
Can I save files with WinWAP?
No. The Pocket PC version does not allow you to save files.
How do I erase any traces of my surfing?
Turn off all cache parameters and before you are trough clear all the saved history and bookmark lists.