The Winwap Browser is a powerful companion for any mobile device. While giving the user a truly mobile browsing experience it includes all the specific technologies Telecom Carriers need for their content revenue generation. The WinWAP Browser has since the first release in 1999 always been designed to provide the best possible user experience while utilizing the best each device has to offer.
Modular browser design
The lower level transport protocols are extremely mature and interoperable with all the GSM based carrier services. WinWAP is a perfect companion for modern devices with telephony or other networking capabilities regardless whether it's a phone, GPS navigator or other stationary or mobile device that needs browsing capabilities.
The different layers of the browser work independently and can be shared with other applications, like the WinWAP MMS Client, to save RAM on your device.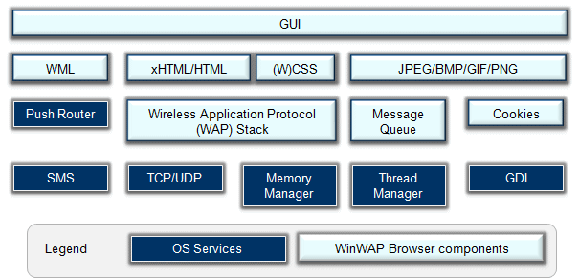 The capabilities listed here are for version 4 of the WinWAP Browser. Capabilities for version 5 are available on request only.
Feature Set
HTTP(S) transport and download
WSP/WTP/WTLS transport and download
Support for any screen size
"Drag to scroll" technology for touch screens
History of visited pages
Support for cookies
Support for file caching
WAP push
Homepage | Stop | Refresh | Favorites | Add URL | View & Save Image
Download media files to predefined locations
Pre-populated favorites in a menu
Security
Supported Content Types
xHTML Mobile Profile 1.2
xHTML 1.1
WML 2.0
HTML 4.01
CSS (WAP CSS, CSS 2.1)
Optional Integration Customization
Dialer, pause on incoming call and dial a phone number
Email, send message to email address from a web page
Picture viewer, download and save new image files
Download and save new ring tones
The WinWAP Browser is available for several Operating Systems
The browser is available for a number of platforms, ranging from regular Windows Vista to limited embedded operating systems. Each version of the browser has been optimized for the particular platform to utilize the possilities the platforms provide as well as make it look and feel like any other applications on the platform. Some of the general platforms supported include:

Windows 7, 8, 10, Server
Windows Mobile Professional
Windows Mobile Standard
Intrinsyc Soleus
WinCE 2.11/3.x/4.x/5.x/6.x/.Net
View full overview matrix
Please contact us for more information.